The Impact of Tariffs on Manufacturing2019-08-19
The trade war between China and the US has been constantly escalated, which draws opposite sides of opinions from experts in all fields. On one side, many think tariffs limit the benefits of free trade, raising the cost of living, and failing to bring positive effects on the manufacturing in the US. On the contrary, the others believe the trade war is beneficial for the US economy, as it brings back more job opportunities of manufacturing to the US. No matter what the future will be like, we have to put the emphasis on currently the two most impactful tariffs: a 25 percent tax on steel and 10 percent tax on aluminum. The impacts of them could be everywhere, starting from Coke, vehicles to industrial equipment and other high-end manufacturing.
Tariff Avoidance Strategies
In the aspect of the manufacturing industry in Taiwan, the trade war leads to the rise of all kinds of costs. For example, materials, manufacturing, and sales are all influenced, directly or indirectly. Here are the strategies most corporations adopt:
1.) Reduce the cost of supply chain
2.)Switch to another supplier with lower cost
3.) Revise design and change manufacturing way to cut down manufacturing cost, and lead in industry 4.0 with automation (and unmanned factory)
4.) Stand still and stick to the current operating strategy, while bearing the enormous pressure of continuing raising costs during the trade war.
As the trade war continues, although it does not force corporations to shift back their massive production to the US, due to the fact that the labor cost in the US is still higher than it in China or countries oversea. Gradually, it apparently accelerates the speed of which corporations move out their production from China. Since 2019, many CNC manufacturers in Taiwan have indeed received orders from China, most of which are from the purchasing offices in China. These purchasing offices are assigned by their parent companies in the US tor purchase from Taiwan or Southeast Asian countries. Although in the first half of year the accumulated exports of Taiwan slightly dropped, however, in certain industries such as IT industry the accumulated exports are constantly growing.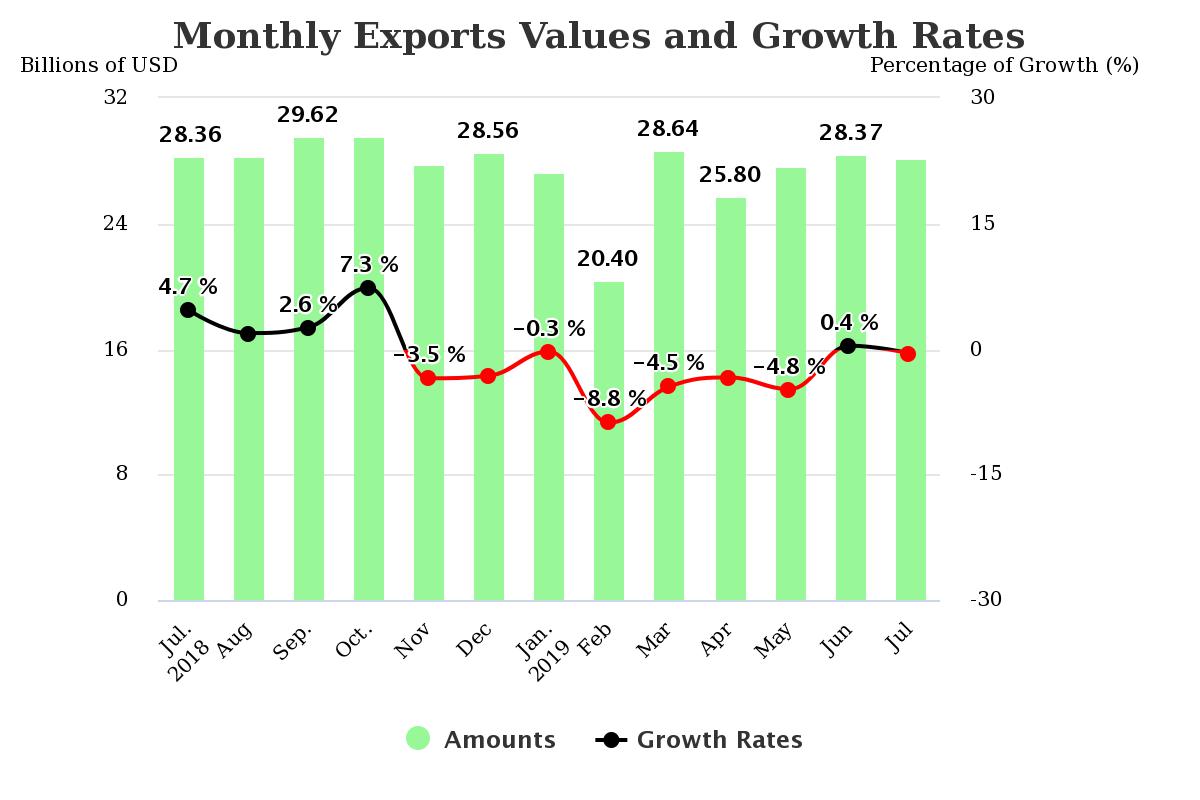 Taiwan's exports highly rely on China market but also influenced by tariffs.
(Ref: https://cus93.trade.gov.tw/)
In the trading storm between these two great and conflicting countries, CNC manufacturers in Taiwan might benefit from the transferred order temporarily, in the meantime, we should also figure out how to prevent ourselves from being dragged into the storm next time.