Larger corner radii reduced CNC machining cost2016-10-28
---
Generally speaking, pockets with a depth more than 5 times the smallest corner radius will incur an additional fee to the CNC machining cost. See the spare part of the video camera monitor described below. We will have to use a .250″ diameter flat end mill with a 1.25″ length of cut, when is a very fragile cutter. To avoid the end mill from damaging on occasion means the CNC machining processing will be slow. Furthermore, due to the deflection of such a long small diameter cutter, it is difficult to make the wall perfectly vertical and the corners free of chatter.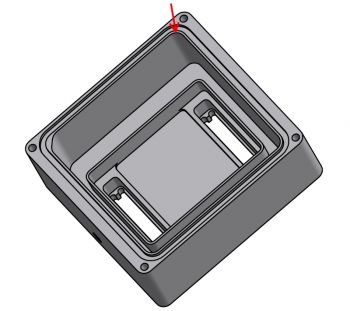 CNC machining Inside corner radius .125" with a depth 1.25" of cut
CNC Machining Key Advice
►Try to keep your radii on inside corners bigger than 1/6th the pocket depth.
What are the procedures involved in CNC machining parts?
The passage below shows how APPORO manufactures customized parts step by step from print to part:
1.) Checking and Confirming Drawings
Till today, we already have checked and confirmed more than ten thousand CAD drawings. Discussions will be conducted if any issues occur in this stage:
a.) Quote invitation will be turned down if the part is beyond APPORO's capabilities.
b.) Our customers will receive suggestions if the design needs modifications to be machinable or to reduce to production cost without compromising the quality and functionality.
c.) Our customers will receive a quote with the shortest and possible lead time for delivery.
2.) CNC Programming
Our professional CNC programmers use PC-based CAD/CAM software Mastercam for fast and efficient turning/milling. In this stage, we are dedicated to looking for better ways to optimize design for production.
3.) CNC Production
Following instructions of CAM software, parts will be step by step well manufactured with CNC milling machine. Speaking of CNC milling, APPORO are capable of 2 axis, 3 axis, 4 axis and 5 axis machining. From simple dowel pins, shaft to complex CNC turning and milling parts, we can get you covered.
Finally, with more than 30 years of success, we are one of the premier CNC precision machining manufacturers in the world. Send us your parts CAD drawings to get a free quote, and our engineers will review your project to ensure the manufacturability. We will also provide CAD design suggestions to you for better production.