Standard specification of DIN 82 (link)
After CNC fabrication processing, the workpiece is usually with smooth metal surface. Knurling is a manufacturing process to feature straight, crossed, angled, diamond-like lines or pattern onto the CNC components. Generally speaking, knurling can perform better grip for finger/hand operation, plastic injection insert or decoration purpose. Sometimes, we also machined multiple shallow slots or polygonal for same above purpose. DIN 82 is most commonly used knurling spec in CNC turning machining field. For example, DIN 82-RGV is with cross knurling pattern. DIN 82-RBR/RBL is with right/left hand spiral. DIN 82-RGE is with diamond-like 30° cross male knurling.
Failure Cross Knurling
Our Belgium textile industrial customer had sent us the original sample made of stainless steel 304. The sample made by Belgium local prototyping manufacturer was with failure knurling surface. See the shorter item in below photo. The measurement of sample was precise and within tolerance, but with bad knurling which was with improper length, too light pattern, and also lack of lead in chamfer at the threaded hole.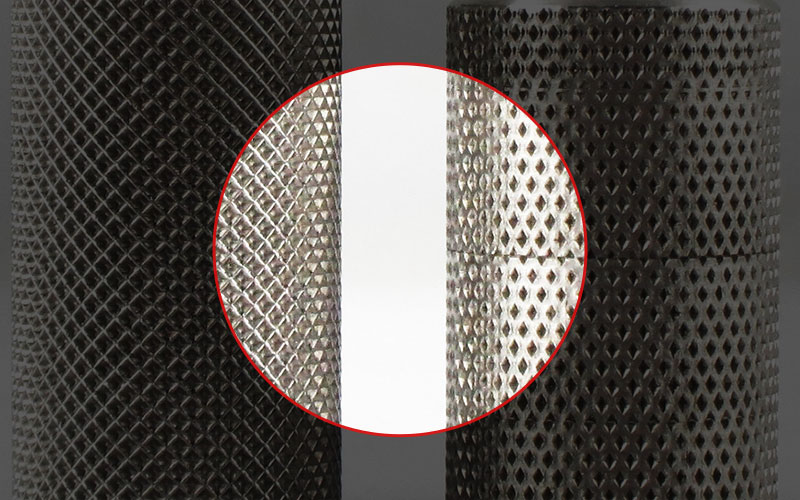 The improper length of knurling do bad for its appearance, a customized full length cross knurling tool can solve this issue. Too light patter may result from the CNC programming or limitation of CNC lathe. Moreover, our CNC production lines can easily machine the lead in chamfer on the edge of threaded hole.
Improved knurling
Therefore, we ordered a customized full length knurling tool to meet the required pattern spec of DIN 82-RGV 0.8. An automatic Japaneses CNC turn-mill machine also helps improving the quality of surface and dimensions. Above photo shows the longer workpiece machined by APPORO is with improved knurling pattern.
We can offer CNC precision parts with several types of knurling surface, such like straight knurling, cross knurling, diamond-like knurling. Our production lines are also capable of knurling on precision plastics parts. Should you have any inquiry for above knuring surface on your CNC workpieces, kindly send us RFQ for free project reviewing without hesitation.