There are numerous items in our daily lives that need threads for assembly and secure. In the applications of some precision industries, the precision of thread is highly relevant to the smoothness of component assembly, so rigorous manufacturing and inspection are necessary. Regarding manufacturing threads, previously we publish an article about it in details, where you can select your best ways for manufacturing depending on materials, amount, and precision. We will also talk about how to manufacture pre-plated thread later in this article.
How to inspect the threads?
As you can choose the most appropriate ways to manufacture threads depending on the needs, you can also customize the thread inspection based on the precision, functionality, and so on. Generally speaking, if tolerance and the intensity of threads are not really the concern, ready made bolts and nuts are available for shop-floor inspections. When the nuts/bolts successfully run onto/into their counterparts, they pass the shop-floor inspections. But if tolerance and the intensity of threads are the concern, advanced inspection methods such as thread gauges, 3-wire method, micrometer, vernier caliper, projector and coordinate measuring machines, can be used to measure the threads accurately. Regarding the basic introduction about thread inspections, you can take a look at the previous case study from APPORO.
In the extremely rigorous precision industry, the design thinking ranging from purpose, materials, manufacturing, post-manufacturing, to even packaging are taken seriously, so as to ensure the quality of products during mass production and the various functionality. Take the design thinking of one of APPORO's clients, the Swiss dental equipment supplier for example. The handheld dental equipment have to be comfortable for long-term use, able to prevent from occupational injury, and conforming with hand ergonomics. Therefore, details like size and the design of center of weight are highly valued.
What should we learn about pre-plated part?
APPORO is mainly in charge of the supply of medical grade stainless and brass components manufactured on CNC lathe. Besides, if there is cosmetic or anti-corrosion purpose for brass components, nickel or chrome plating will be added as surface treatment. In general, the film thickness of plating and its anti-corrosion ability are positively correlated. However, when it comes to the dental equipment, the anti-corrosion ability is not the a priority concern. Instead, what really matters is that the dimensions of the components are still within the tolerance after plating, to make sure the components are in a good assembly condition and function.
For instance, after 1-3um nickel plating, the outside diameter a cylinder brass component and its tolerance should be 9.50 +/-0.02mm. In practice, we manufacture the OD 10.0mm round rod materials into OD 9.48-9.50mm. With nickel plating which requires 1-3um thickness, the OD of the plated products could be within 9.50 +/-0.02mm.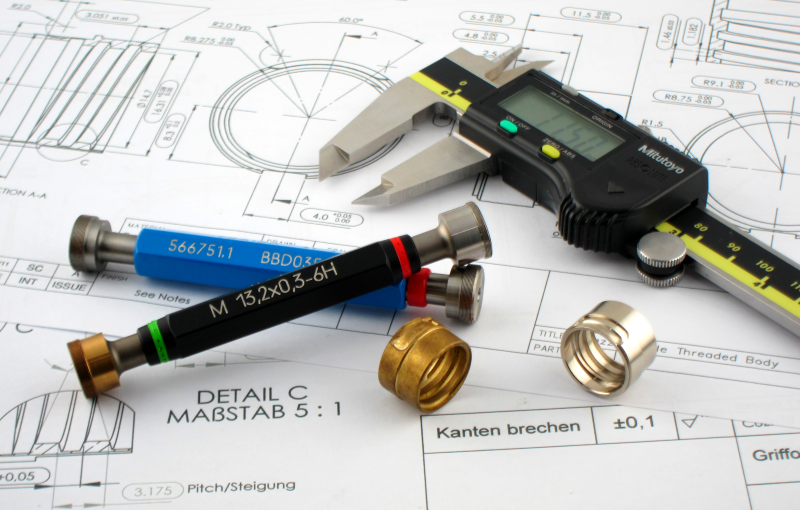 Learn more: How to Manufacture Pre-Plated Thread (Part 1)