Progressive Stamping Mold: Spacing Limitation2017-02-15
---
In January, we have talked about a new progressive stamping project for making a straight flat actuator of micro switch. In short, the reason why we build a progressive punching mold for production is mainly based on annual demand of the project. Visit our website to check out what a progressive stamping mold is.
Spacing limitation of stamping mold
Regarding micro switch, there are lots of different type of actuators, depending on application, straight flat, out hole, rollover, with blade and roller, etc. The micro switch which our customer required was the simple one with medium lever flat blade. At present, our customer has already approved the FA samples which were perfectly machined as per CAD drawings. However, they were also asking if we could increase the distances from both hole center and radius edge to flat surface. Apart from that, distance from radius edge to flat surface was changed from 0.145" to be 0.166", and the distance from the hole center to flat surface was changed from 0.082" to be 0.103". Check out the modification in the drawing below.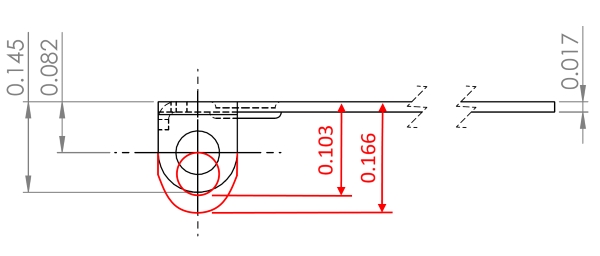 Modification(red marked dimensions) of the micro switch stamping mold
During the punchinging process, the progressive tooling would cut, pierce and bend each of micro switch step by step. No matter how the designer or engineer modified the parts, the features or dimensions should be exactly relative to punching die. As per customer's requirement, the flat pattern of micro switch became wider. In other words, the spacing between each stamping stage would also be smaller. Moreover, the smaller the spacing was, the smaller the punching die would be.
Optimized spacing between each stamping stage
However, smaller punching die did have negative effects on the lifetime of punching die. In our original design, the spacing was 2.0 mm for saving raw material and also extending the lifetime of punching die. If the parts width were changed from .145" to .166", the spacing between each stamping stage would be down to less than 1.0 mm. No doubt that the punching die would definitely damage very soon. Thus, considering the above negative effects, our USA client eventually placed another progressive mold order for new design with optimized spacing.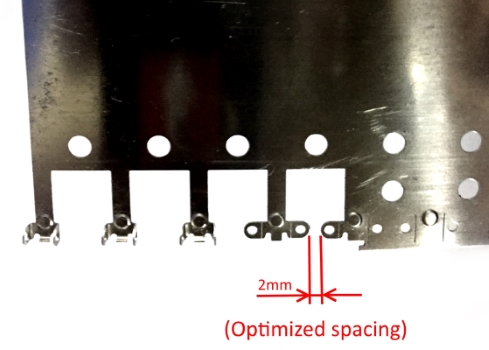 Progressive stamping mold with optimized spacing
We are a professional and reliable stamping, deep drawing mold designer and consultant. Should you have any inquiry or questions, please send us email.