Satin & Bright Chrome Plating2016-08-29
---
Chrome plating is a standard option for a bright and shiny looking, usually applied to products of certain hardness, anti-corrosion and anti-wear required. Apart from chrome plating, satin chrome plating serves another fantastic option of modern looking alternatively which features dull and matte surface appearance.
What is Satin Chrome Plating?
Satin chrome plating is widely used for parts of furnitures to create a contemporary metal finish, such as door handles, light fittings, switches. This kind of electroplating technique is processed by depositing a thin layer of chrome onto a electroplated satin nickel coating layer. In the past we usually used sandblasting for the surface, but now modern satin nickel chemistries have been more preferable as they are fast and reliable plating process.
The photo below shows satin chrome plating(left) compared to shiny chrome plating(right):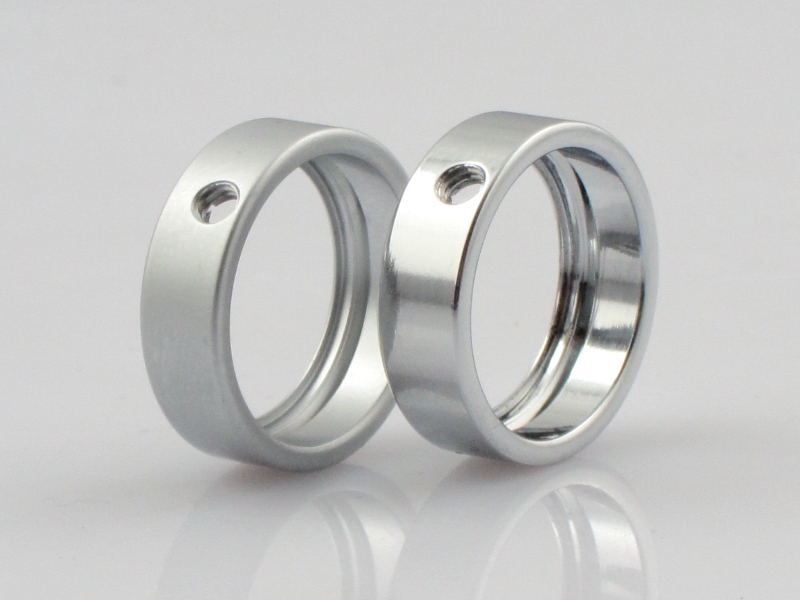 Is my CNC part good for Satin Chrome Plating?
Satin chrome plating not only provides some benefits such as corrosion resistance, increased hardness, but also offers an improved final appearance of your CNC parts without pre-sandblasting. It is an effective choice to save production cost without compromising on the surface quality for your precision parts. For brass parts and carbon steel parts surface treatment, satin chrome plating serves even a better option.
Apart from satin chrome plating, you can also choose black chrome plating as an optimized appearance option. The photo below shows otoscope cone funnel with black chrome plating and shiny chrome plating.